Love is in the Air! It's that special time of year when we can get all decked out in something red and glitzy, receive or give flowers and chocolates and enjoy a night out on the town. Or we may decide to stay home, this also has it's romantic perks! You create the menu, the ambience and of course, the budget. Glitz is optional!
We have a few ideas to offer:
Capt. Anderson's Valentine's Day Cruise:
Firefly's Fine Dining:
This is one of those places that's special no matter what the occasion. Warm and inviting, with a menu crafted to match the atmospheres understated elegance. The menu is focused around locally caught fish, imported exotic fish, and seasonal vegetables.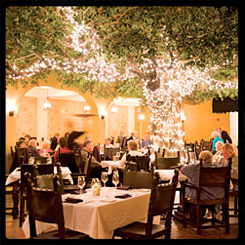 Solaris Valentine's Dinner & Dancing Cruise
Enjoy the elegant fusion of the luxurious yacht, ambiance, romance, staff and entertainment at this one-of-a-kind Valentine's Day experience. Upon being greeted on-board by Captain Rick, guests are welcomed to start the evening with a cocktail from the full-service bar and take in the fresh air from the sky deck while cruising into the sunset. As everyone explores all three indoor and outdoor decks, the SOLARIS chefs are freshly preparing coastal cuisines on-board the yacht's galley.
The three-course, chef-prepared culinary adventure begins with a Smoked Tomato and Basil Soup. Entrée choices include a fresh herb-encrusted Filet Mignon with a Shallot and Port Cream Sauce, Fresh Seared Gulf Fish and Red Pepper Buerre Blanc, Chicken Farci (andouille sausage-stuffed breast of chicken with red wine cream), and Spaghetti Squash and Vegetable Ragout. The meal concludes with a Chef's Dessert Plate, specially prepared for couples to share. The romantic celebration continues with live music that can be heard from all three indoor and outdoor decks. Couples can dance under the stars on the yacht's sky deck or enjoy the live music from inside the elegant dining spaces with panoramic windows.
The SOLARIS yacht is conveniently docked within the all-inclusive Sandestin Golf and Beach Resort which offers a variety of accommodations on-property for anyone seeking a romantic, worry-free night.
The SOLARIS Valentine's Dinner and Dancing Cruise includes a three hour cruise, three-course meal and live entertainment for $165 per couple. Reservations required by visiting www.SunQuestCruises.com or calling 850.650.2519.
Regardless of what you do, make it a memorable day! Enjoy your honey.